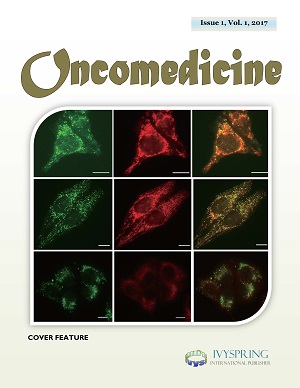 Oncomedicine is an international journal publishing cutting edge research in oncology and medicine including basic sciences, pre-clinical and clinical studies. The journal aims to promote novel concepts, new methods, new regimens, new therapeutic agents and medicine, and innovative or alternative approaches for the detection, intervention and treatment of human malignancies and relevant diseases.
Types of articles:
Review and mini-review
Promising clinical trial outcome
Novel therapeutic regimen and protocol
Novel hypothesis, device, method, and biomarker
Commentary and letter to editor
Research and short research communication
Scientific debate on controversial issues
Special issues addressing urgent medical problems
Reviews or mini-reviews from leading scientists that give timely updates on all fields of oncology and medicine are particularly welcome and will be published in high priority and speed.
Latest articles:
Short Research Paper
ERCC1 Biomarker in Colorectal Cancer: To Induce or Not to Induce? This Is the Matter!
Mariantonietta Di Salvatore, Armando Orlandi, Carmela Paolillo, Francesca Aroldi, Mariagrazia Rodriquenz, Ettore Capolongo, Carlo Barone
Oncomedicine 2016; 1: 25-27. doi:10.7150/oncm.16256
[Abstract] [Full text] [PDF]
Review
Head and Neck Cancer Therapy from Bench to Bedside
Ilias Karapantzos, Paul Zarogoulidis, Michail Karanikas, Vasilis Thomaidis, Charalampos Charalampidis, Chrysa Karapantzou
Oncomedicine 2016; 1: 18-24. doi:10.7150/oncm.16928
[Abstract] [Full text] [PDF]
Short Research Paper
Cathelicidin LL-37 Promotes or Inhibits Cancer Cell Stemness Depending on the Tumor Origin
Guilherme Tude Coelho Neto, Thais Martins de Lima, Hermes Vieira Barbeiro, Roger Chammas, Marcel Cerqueira César Machado, Fabiano Pinheiro da Silva
Oncomedicine 2016; 1: 14-17. doi:10.7150/oncm.16802
[Abstract] [Full text] [PDF]
Review
Small Cell Lung Cancer: Current and Future Strategies
Sofia Lampaki, Paul Zarogoulidis, Kalliopi Lagoudi, Drosos Tsavlis, Ioannis Kioumis, Elena Papakala, George Lazaridis, Haidong Huang, Wolfgang Hohenforst-Schmidt, Pavlos Pavlidis, Kaid Darwiche, Nikolaos Barbetakis, Ilias Karapantzos, Chrysa Karapantzou, Aggeliki Rapti, Vasilis Karavasilis, Konstantinos Zarogoulidis
Oncomedicine 2016; 1: 4-13. doi:10.7150/oncm.16926
[Abstract] [Full text] [PDF]
Mini-review
γ-Synuclein as a Cancer Biomarker: Viewpoint and New Approaches
Andrei Surguchov
Oncomedicine 2016; 1: 1-3. doi:10.7150/oncm.16748
[Abstract] [Full text] [PDF]
Congratulations to our sister journal Journal of Cancer that obtains an Impact factor of 3.609 according to the 2016 release of Journal Citation Reports!