Oncomedicine 2019; 4:10-16. doi:10.7150/oncm.30990 This volume
Research Paper
Targeted Delivery of a Novel Conjugate Nef-M1 Peptide and Single-Walled Carbon Nanotubes promotes Growth Inhibition and Mortality for Breast and Colon Tumorspheres
1. Department of Surgery, Michigan State University, East Lansing, MI, USA
2. Independent Research Scientist, Atlanta, GA, USA
3. Department of Pathology, University of Alabama at Birmingham, Birmingham, AL, USA
*Senior Author

This is an open access article distributed under the terms of the Creative Commons Attribution (CC BY-NC) license (https://creativecommons.org/licenses/by-nc/4.0/). See http://ivyspring.com/terms for full terms and conditions.
Citation:
Bumpers HL, Goud JD, Manne U, Katkoori VR. Targeted Delivery of a Novel Conjugate Nef-M1 Peptide and Single-Walled Carbon Nanotubes promotes Growth Inhibition and Mortality for Breast and Colon Tumorspheres.
Oncomedicine
2019; 4:10-16. doi:10.7150/oncm.30990. Available from
/v04p0010.htm
Abstract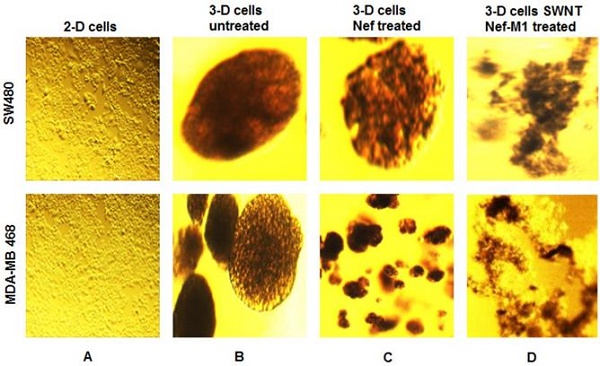 The Nef-M1 peptide (Nef-M1) has been shown to be an inhibitor of growth and metastasis of breast cancer (BC) and colorectal cancer (CRC) cells. Since a nano-construct for Nef-M1 could enhance its efficacy, we developed three-dimensional (3-D) cultures of tumorspheres of BC and CRC cells and treated them with functionalized, single-walled carbon nanotubes (SWNTs) conjugated with Nef-M1 (SWNTs-Nef-M1) to evaluate inhibition of cell growth. We hypothesized that cancer cells cultured as tumorspheres would be more sensitive to SWNTs-Nef-M1 than to Nef-M1 alone. 3-D cultures of human BC cells (MDA-MB-231 and MDA-MB-468) and CRC cells (SW480) were developed with 1% Sea Prep Hydrogel in supplemented RPMI-1640 medium. SWNTs-Nef-M1 was prepared by use of thionine, and its structure was confirmed by ultraviolet (UV) spectral analysis and gel electrophoresis. The tumorspheres were treated with Nef-M1 or SWNTs-Nef-M1 to compare their relative effects. Internalization of SWNTs-Nef-M1 was evaluated by transmission electron microscopy. The viability/apoptosis status of the tumorspheres was established by use of ethidium bromide and acridine orange staining using fluorescent microscopy. Gel electrophoresis and UV spectral analysis confirmed formation of the SWNTs-Nef-M1 conjugate. After 3 weeks, 3-D cultures of BC and CRC cells developed as tumorspheres, which, in the presence of Nef-M1, showed reduced growth and increased apoptosis. This effect was greater in the presence of SWNTs-Nef-M1, consistent with enhanced delivery of Nef-M1 to the cells via SWNTs. This sets the stage for more detailed evaluation to quantify apoptosis and elaboration of the mechanism of increased apoptotic activity. Delivery of an apoptotic peptide, Nef-M1, into 3-D cultures of BC and CRC cells was achieved via a nanoparticle construct with SWNTs. Furthermore, compared to Nef-M1, SWNTs-Nef-M1 suggests more extensive apoptosis.
Keywords: single-walled carbon nanotubes, Nef-M1 peptide, 3-D cultured tumorspheres, cancer therapy, drug delivery, breast and colon cancers