Oncomedicine 2018; 3:59-66. doi:10.7150/oncm.25851 This volume
Research Paper
DNA Repair Response Modulation Potentiates Low Dose Cisplatin Effects in HeLa Cells
Cancer and Translational Research Lab, Dr. D.Y. Patil Biotechnology & Bioinformatics Institute, Dr. D.Y. Patil Vidyapeeth, Pune, Maharashtra, India, 411033.

This is an open access article distributed under the terms of the Creative Commons Attribution (CC BY-NC) license (https://creativecommons.org/licenses/by-nc/4.0/). See http://ivyspring.com/terms for full terms and conditions.
Citation:
Jain A, Jahagirdar D, Sharma NK. DNA Repair Response Modulation Potentiates Low Dose Cisplatin Effects in HeLa Cells.
Oncomedicine
2018; 3:59-66. doi:10.7150/oncm.25851. Available from
http://www.oncm.org/v03p0059.htm
Abstract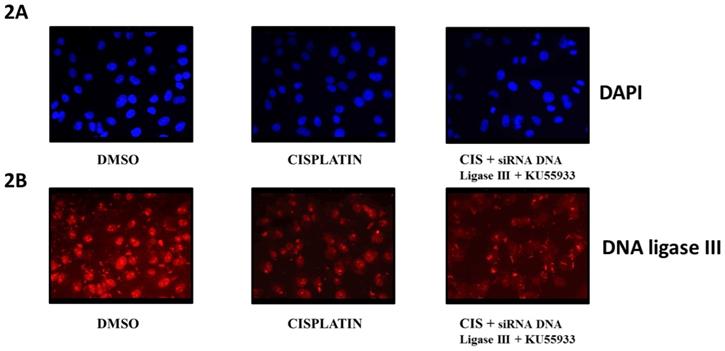 Background: Cisplatin is considered as the crucial regimen of widely prescribed chemotherapy treatment to many cancer types. However, incessant increasing dose of cisplatin against many cancers including cervical cancer is known for drug resistance and side effects like nephrotoxicity and ototoxicity.
Methods: To address above problems, this paper reports using ATM kinase inhibitor (KU55933) and siRNA DNA ligase III to alter the DNA repair response in vitro low dose cisplatin treated HeLa cells. Here, authors performed cell proliferation, MTT cell cytotoxicity, annexin V/PI staining flow cytometery and PI stained cell cycle assays to substantiate observations.
Results: This paper reports that low dose cisplatin (10 µM) can show better effects in vitro growing HeLa cells in combination with KU55933. However, we included siRNA DNA ligase III along with KU55933, but data suggest that the level of DNA ligase III protein are not changed due to treatment with siRNA DNA ligase III as shown by immunocytochemistry assay. Even though, level of DNA ligase III is not altered in the present finding, use of KU55933 as combinatorial option with low dose cisplatin produce significant anti-proliferation effects (up to 35%) and also loss of cell viability including apoptotic cell death (up to 30%) in treated HeLa cells.
Conclusion: This study suggests that KU55933 in combination with low dose cisplatin may be a good option to bring anti-proliferation and loss of viability in HeLa cells and may be explored in other cancer cell lines as well.