Oncomedicine 2019; 4:17-26. doi:10.7150/oncm.27020 This volume
Review
The Functional Role of Bcl-2 Family of Proteins in the Immune System and Cancer
1. Department of Biology and Advanced Placement Biology, White Station High School, Memphis, Tennessee 38117. USA.
2. Departments of Biology and Advanced Placement Biology, White Station High School, Memphis, Tennessee 38117. USA.
3. Departments of Pathology and Laboratory Medicine, University of Tennessee Health Science Center, Memphis, TN 38163, USA.

This is an open access article distributed under the terms of the Creative Commons Attribution (CC BY-NC) license (https://creativecommons.org/licenses/by-nc/4.0/). See http://ivyspring.com/terms for full terms and conditions.
Citation:
Chen A, Madu CO, Lu Y. The Functional Role of Bcl-2 Family of Proteins in the Immune System and Cancer.
Oncomedicine
2019; 4:17-26. doi:10.7150/oncm.27020. Available from
/v04p0017.htm
Abstract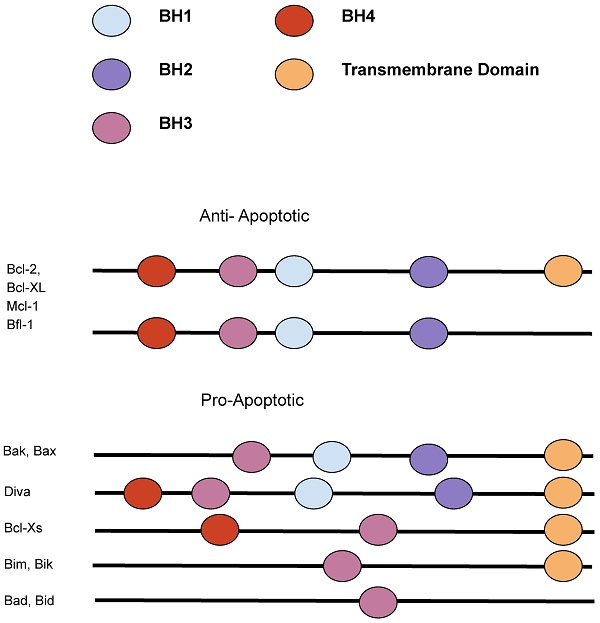 The Bcl-2 family of proteins plays a significant role in regulating the cell cycle. It plays a crucial role in regulating homeostasis by helping to maintain proper cell number and eliminating potentially malignant cells. The cell achieves the delicate balance through apoptosis or programmed cell death. The Bcl proteins are involved in the intrinsic apoptotic pathway, which is especially important in the development of the immune system. Apoptosis is involved in proper positive and negative selection during the development of B- and T-cells. The detection of any gene of the Bcl-2 family often results in the abnormal development of lymphocytes. The balance of pro-apoptotic proteins versus anti-apoptotic proteins, which operate at the organelle level, determines if the lymphocyte proliferates normally or abnormally. A critical tumor suppressor is the ability of cells to self-disrupt and undergoes cell death through apoptosis. Cooperation between cells is essential; without the ability to respond to external stimuli, cells lose the ability to respond correctly to developmental cues. Cells that evade apoptosis have a greater potential to become malignant because they are unregulated and do not respond correctly to external signals. The overexpression of the pro-survival (anti-apoptotic) proteins of the Bcl-2 family induces the cell to not respond to an external signal, prolonging cell survival and increasing the chance of becoming malignant.
Keywords: bel-2, apoptosis, anti-apoptotic protein, cancer